We're all familiar with those fictional couples who have the perfect relationship. While not all of these couples have the smoothest relationships, their chemistry is undeniable. Often their chemistry is so strong, you might forget it's all an act.  Although you might consider all these couples #goals, they are each truly unique. Now I'll stop swooning about these couples, let's get into it.
Chuck and Blair from Gossip Girl
What better pair to start us off than Chuck and Blair?! They are all-around the epitome of relationship goals. Sure, there's no lack of drama in Chuck and Blair's relationship, but that just makes it all the better for these two. The drama fuels their passion for each other and they always come out stronger than ever in the end. There's no denying that these two were made for each other.
Jim and Pam from The Office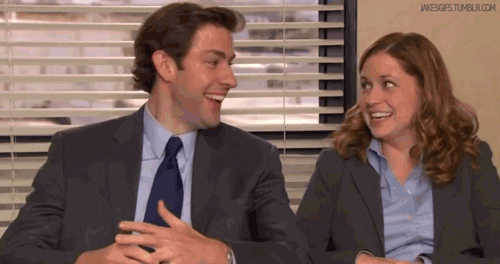 From the very beginning of the series, Jim and Pam had a clear love for each other. Their goofiness with each other is to die for, especially when it involves playing pranks on their frenemy Dwight. Jim and Pam always know how to have the best time together and make their lives look so simple and happy. In the later episodes of the series, these two become the ultra power couple when they have children who are equally as cute as Jim and Pam as a couple.
Charlie and Sam from The Perks of Being a Wallflower
Although Sam tries to steer Charlie away at first, Charlie would not give up. And it paid off! Sam originally said Charlie was too young for her, but that didn't stop him. These two started off as friends and were truly the perfect complement for each other.
Pat and Tiffany from Silver Linings Playbook

Pat and Tiffany have both been through some rough times on their own and are able to form the perfect bond while helping each other cope. Not only do they have chemistry on the dance floor, but their genuine and passionate care for one another really stands out when they end up together at the end of the movie. Despite their individual problems, these two help ground each other.
Ellie and Carl Fredricksen from Up
There's no doubt you shed a tear during the montage of Ellie and Carl Fredricksen in Up. This couple committed their lifetimes to two things: adventure and each other. The happiness and true love in this relationship is evident, even when Ellie passes away. Not only does Carl fight to keep the spirit of Ellie alive in his home, he goes out of his way to fulfill one of their lifelong dreams. This couple is the ultimate example of a lifelong love, even if they are animated.
Cam Tucker and Mitch Pritchett from Modern Family

Cam and Mitch are such a well-rounded pair and always know how to help each other get through anything. Their passion for keeping each other happy is so strong and is shown through all the little things they do for one another. Their daughter Lilly, definitely has two of the best dads around.
Allie and Noah from The Notebook
Allie and Noah are the classic couple from the classic romance movie. Their relationship has its fair share of issues, but this never lessens their passion for one another. Their love story is definitely one of both lust and love, but they always know how to have fun together. We love that they're both hopeless romantics, because it makes their forbidden love that much better.
We could go on and on about these perfect couples, but these are definitely our favorites. Did we miss any of yours? Comment your favorites!